Make Your Finish Picture Perfect
by David Leadbetter

To fully finish your swing the right side of your body must be encouraged to rotate all the way through the shot so that you end up with the majority of your weight on your left side, your right foot up on its toes.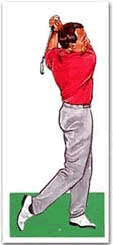 Ideally, your knees should be gently touching, your hips fully turned, and your right shoulder looking at the target. (Quick check: as you complete your swing, your weight should be so finely balanced on your left foot that you could almost walk through the shot toward the target.)

Having that understanding of where your body should be will help you to achieve the ultimate follow-through pose; one the pro's make routine. Copy them.

When you make a practice swing, accelerate through the shot so far that the club almost hits you on the back, then recoil it back down to about hip-height, and hold that pose for a second. Now you're looking good.

This recoil action will make you fully aware of how the club must accelerate and 'release' all the way to the finish. Once you feel comfortable, try it with the ball in front of you. Your swing may not be a masterpiece, but your shots should definitely improve.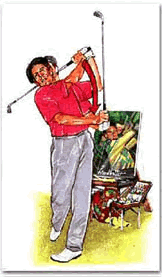 back