Weaken Your Left Hand For Higher, Softer Shots
by Matt Swanson

If golf shots were assigned degrees of difficulty, the lob or flop shot would be near the top of the list. Taking such a long swing with your sand wedge and stance wide open is just asking for trouble-your margin for error is miniscule. Catch a lob shot the slightest bit thin and you'll blast the ball 40 yards over the green.

Also, with the blade of the club so far open, if you miss the shot slightly toward the heel, an out-and-out shank is a real possibility.

Here's another, much easier technique for hitting high, soft-landing shots. Instead of laying the clubface wide open and making an out-to-in swing and sliding the clubhead beneath the ball, just weaken your left-hand grip (for right-handed golfers). To do this, just rotate your left hand under the club so that your palm faces the sky. With your left hand in this position, the clubface will remain open through the hitting area and the resulting shot will fly high and land soft. Experiment with this technique on the range-the higher you want the ball to fly, the more you'll want to weaken your left hand.

This is a versatile shot that's great for any one of a number of situations. I use it with my sand wedge for delicate, greenside pitch shots that need to stop fast, for greenside bunker shots when you don't have much green to work with and for deadening ticklish downhill bump-and-run shots. It's also a terrific technique to use on short approaches (with your sand wedge, pitching wedge or 9-iron) to pins cut tight just over a bunker. Just remember to aim a bit left of your target-you shots will tend to fade slightly and kick gently to the right upon landing.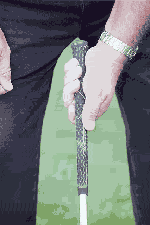 To hit a a higher, softer landing, pitch a lob shot, use an extremely weak left-hand grip, with your left palm pointing toward the sky.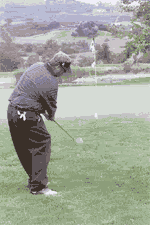 With your left hand in this weakened position, your clubface will remain open through impact and the resulting shot will fly higher and land softer.

back